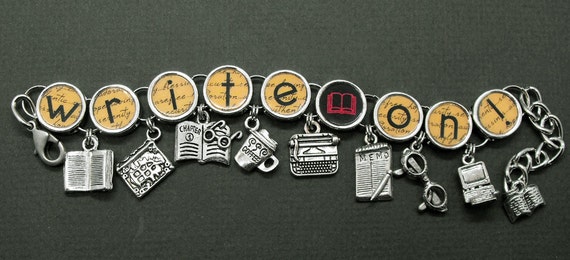 With the help of various craft shops on etsy.com, the book lover can completely accessorize herself with books or at least items relating to books.
I always have a satisfying feeling when ordering from Etsy, because I feel like I am helping to support a creative entrepreneur. I have a kind of empathy for all artists, even if my "art" is different in nature.
You can order this
Write On
bracelet above for $39.95 from A Likely Story shop on Etsy. This is the very bracelet that I bought from this shop, and I love it. Part of the charm of this bracelet is that it is made with manual typewriter keys. To me, the manual typewriter is such a fun and romantic symbol for writers. I don't actually want to use one -- I've been too spoiled by computers and modern software -- but I like its old-fashioned charm and look. The charms include both open and closed books, reading glasses, typewriter, computer, coffee mug and memo pad with pencil. I liked this one for myself, because it seemed to represent different aspects of me as a writer and reader. The last item seems to resemble the reporter's notebooks I carry for my newspaper work. The books could represent ones I've written as well as ones I read. It had the charming typewriter as well as the writing instrument I actually use -- the computer. The coffee cup, I must say, fits me very well too. You know you're a frequent Dunkin Donuts customer when sometimes your coffee is made before you reach the counter.
There are a variety of similar bracelets from A Likely Story for authors, librarians, writers and bibliophiles. How about this
Got Books? bracelet
for $39.95? One of these book covers says "Romance novel" and another says "True story" to represent your diverse reading material.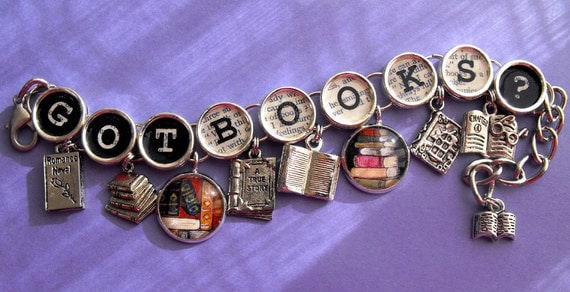 For the mystery lover, either writer or reader ...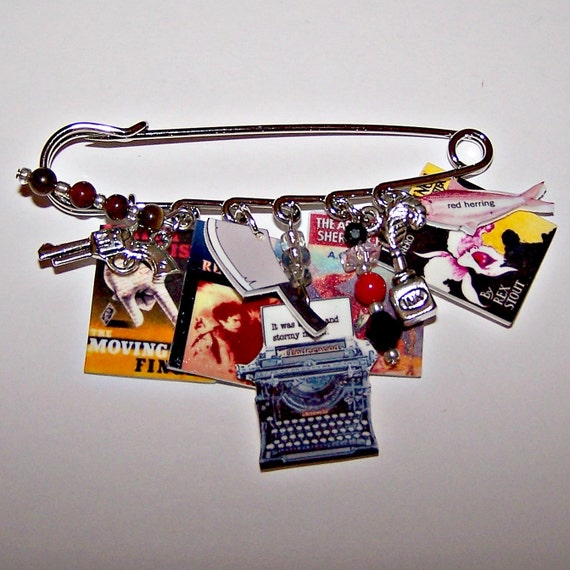 The ptierneydesigns Etsy shop has jewelry for mystery lovers, either writers or readers. Above is her
mystery writer's wearable art pin
for $19.75. The pin is a kilt pin. The collected charms include reproductions of book covers for
The Moving Finger
by Agatha Christie,
Fer-de-Lance
by Rex Stout,
The Adventures of Sherlock Holmes
by Arthur Conan Doyle and
Murders in the Rue Morgue
by Edgar Allen Poe. The other charms are a revolver, an inkwell, a red herring and a cleaver. Just imagine what a conversation starter it would be to have a cleaver on your pin. Somehow, the cleaver looks more menacing to me than the revolver. It looks more, er, accident prone. Hopefully, you can assure your friends that you're only interested in reading (or writing) mysteries, not in acting them out.
This reminds me of the item below. This mug declares, "Pay no attention to my browsing history. I'm a writer, not a serial killer." I must say that I've had a few Google searches that might make me appear suspicious.
The mug is not an Etsy item, but you can get that mug
here
for $10 from teechip.com.
Back to my previous thought, I love ptierneydesigns shop. She has so many nice things for the mystery lover, including many charm bracelets themed around specific mystery books and writers. How about a bracelet that is a tribute to several of the great fictional detectives?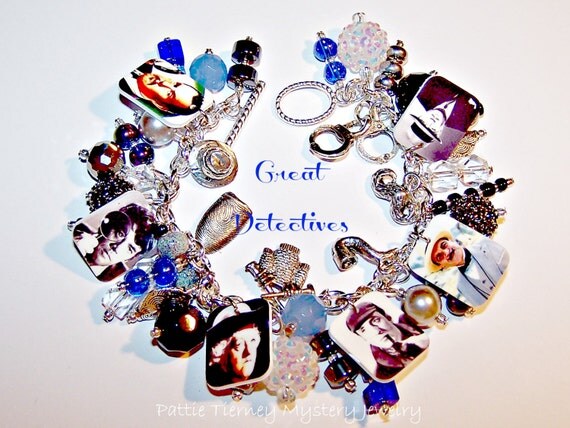 This one features Charlie Chan, Ellery Queen, Miss Marple, Sherlock Holmes, Hercule Poirot and Nick Charles. The detectives' images are handmade with plastic and covered in sealant. The pewter charms include a fedora, fingerprint, knitting, calabash pipe, mustache and handcuffs. Mystery lovers, I'm sure you can guess which of these detectives are represented by some of these objects. You can purchase this one
here
.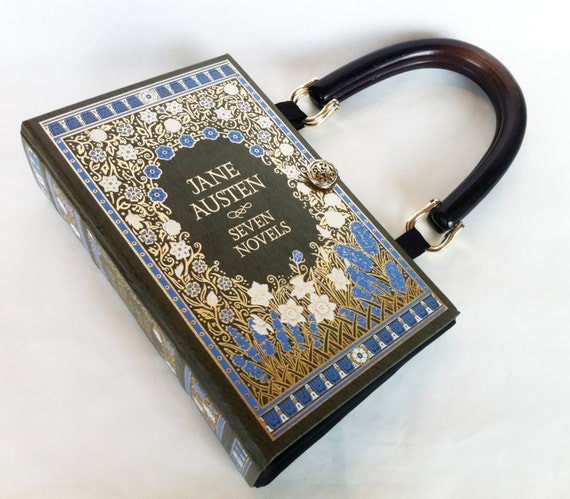 Here is a purse that is almost identical to one I have, available from the NovelCreations shop on Etsy. You can purchase this one for $60.00
here
. The purses from this shop are made with real book covers with cotton fabric on the sides, handles and button and strap closures. A Jane Austen cover isn't the only possibility. There are lots of other options like
To Kill a Mockingbird
,
Pride and Prejudice
,
Charlotte's Web
and even
Gray's Anatomy
. Maybe, you'd like a purse with a Shakespeare plays cover or
Beauty and the Beast
.
Can you tell I'm a bracelet lover? What about a twin set of kindred spirit rings for you and a friend inspired by the
Anne of Green Gables
series?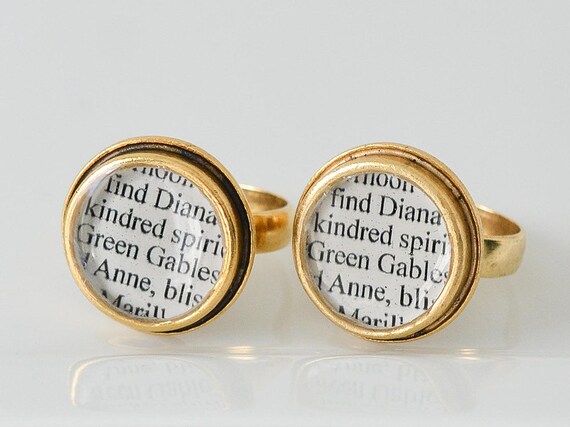 You can see these rings frame a bit of text from a book page. That text happens to include the words Diana, Anne and kindred spirits. It's a perfect gift for you and a fellow
Anne of Green Gables
loving friend. My friend Betty often calls me her kindred spirit, and I gave her one of these rings a couple of Christmases ago. These rings are available for $33.00 from CSLiteraryJewelry.
I know the Christmas season is past, but birthdays come all year long.